Hallo everyone! I'm still slowly getting into the routine of school which is why my posts have been slightly sporadic.
WHAT AM I WATCHING?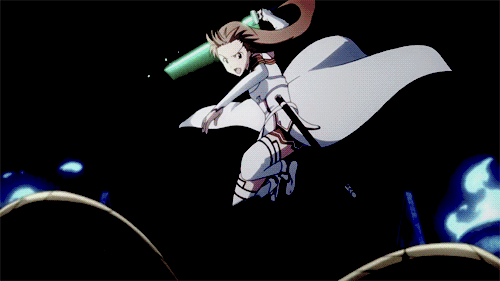 this is who I want to cosplay as!
So I started watching a LOT of different anime this week so let's do this!
1. Sword Art Online
I'm actually all caught up with this since it's an ongoing anime (first time I've seen one!) and there's only nine episodes currently out in sub. This series is just...fun and cool. It takes place in 2022 where virtual gaming is really popular and a new game called Sword Art Online comes out. Thousand of people go out to get it, put on their Nerve gear, and dive into the game. But once they realize they can't log out, the creator of the game lets them know that they're stuck in there until they beat all 100 levels of the game. Worst part? If you die in the game, you die in real life. If a family member tries taking off your gear in real life, you die. So your only option is to him. My thoughts? Kirito is seriously so adorable. And the plot is really cool. (Also: there's a con going on this coming summer and I'm determined to cosplay as Asuna)
2. Arcana Famiglia
Anime always have the best premises, I swear. This is about this "family" called the Arcana Famiglia that protects this small trading island from...well, everything. But when the head of the family decides to retire and has to leave his legacy to someone, the entire family is engaged in a succession war using their "arcanas", each of them having powers that are a part of the usual tarot deck. The dilemma is simple: the winner gets to marry Fel, his daughter, who refuses to be a prize to her friends. I'll admit: it's not the best thing I've ever seen. But...I honestly can't stop watching and the characters are fun! I'm only on episode four and Noda is definitely my favorite.
3. Ao No Exorcist (Blue Exorcist)
And this is actually a well-known anime! It's about a boy who was raised by an exorcist and then finds out he's the son of Satan (basically he's a demon in a human's bodies). When dire circumstances cause him to activate his demon form, he decides to go to an academy to learn how to become an exorcist. I'm really liking this one so far: the characters are cool, the demons are freaky looking, and it seems like it's going to get intense!
WHAT AM I READING?
I FINISHED FMA MANGA EJNGk. So good, seriously. I'm going to collect them since I read them on MangaReader and I want physical copies.

Bookwise...I haven't gotten any reading done, sadly.
MY WEBCAM IS FIXED! VIDEOS STARTING AGAIN NEXT WEEK AND MONDAY ON TB!


For Review:
Defiance by C.J Redwine (unsolicited)
Reaper by K.D McEntire (unsolicited)
Happy Reading!